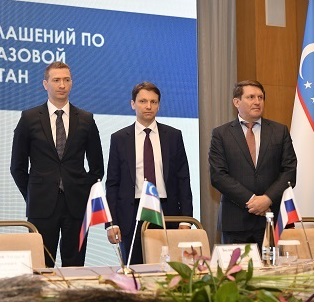 06.04.2021
Indicative terms and conditions signed for financing of "Mustakillikning 25 Yilligi" project
Terms and conditions of bank funds raising have been determined for the project for development of "Mustakillikning 25 Yilligi" ("25 Years of Independence") gas field in Uzbekistan. Relevant indicative terms and conditions for project financing have been signed today in Tashkent between the banking syndicate and the project investor Surhan Investments Limited. This document has been signed within the framework of attracting a loan line for up to USD 900 million for the period of 10 years.
"Signing this document with leading Russian banks is one of the important stages for the project implementation and will allow us to complete the deal to attract project financing by the end of 2021", Andrey Ignatov, General Director of Surhan Gas Chemical Operating Company said.
_______________________________________
"Mustakillikning 25 Yilligi" project provides for exploration and development of natural gas reserves with construction of a gas processing plant with a capacity of 5 billion cubic meters annually and relevant infrastructure in the Surkhandarya Region of the Republic of Uzbekistan. The project is being implemented in accordance with Production Sharing Agreement signed on April 5, 2017 between the Republic of Uzbekistan and consortium of investors.
Contacts for media